---
ATOM 2 is the world's first auto-foldable 3-axis phone gimbal that is pocket size. It senses your action for auto startup and folding, making it a hassle-free phone filming assistant. With a built-in tripod and an extendable handle, ATOM 2 is perfect for go-anywhere phone-filming, vlogging, live-streaming, and selfies!
All the 3-axis foldable gimbals on the market require manual operation which is a little bit troublesome and adds a time-consuming extra step that might make you miss the shot.
Carrying the ATOM 2 around is as easy as placing it in a pocket or bag. Thanks to the ingenious hybrid 3-axis structural design, ATOM 2 breaks free from bulky conventional designs and significantly reduces the gimbal size to an incredible degree.
Compared with 1 or 2 axes selfie-stick style gimbals, a 3-axis gimbal can best eliminate shakes and jitters in all 3 axes of roll, tilt and pan, balancing the phone camera in real-time which results in smooth and steady videos.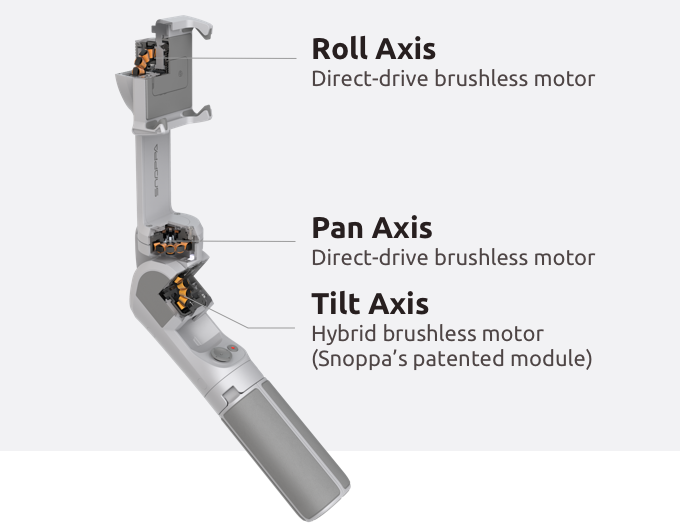 ATOM 2 utilizes Snoppa's latest patented design—the hybrid 3-axis anti-shake structure which is the soul of ATOM 2.
The roll and pan axes both use a direct-drive brushless motor while the tilt axis uses a special hybrid brushless motor self-developed by Snoppa. It has a much higher torsion and excellent stabilizing performance, which cannot be found in any other gimbal
Carrying accessories is always cumbersome so ATOM 2 eliminates the need for additional gear, it has an extendable handle, allowing you to take better selfie shots with a wider field of view. With the integrated tripod, you can stand it directly on any flat surface for hands-free filming techniques such as time-lapse, auto-tracking, etc. Get the shot every time and everywhere!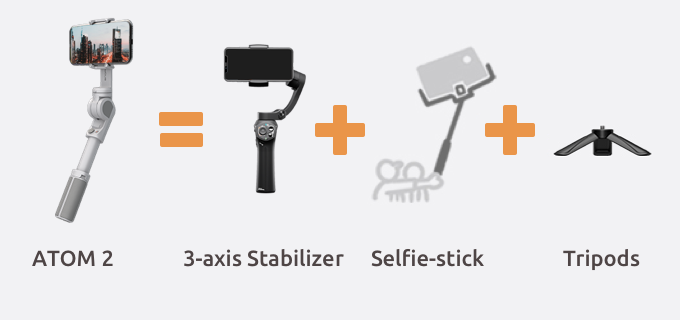 ATOM 2 is currently the only gimbal that supports fast charging. It takes only 1 hour to charge from empty to full, or 40 minutes charging to reach 80%. Inside there's a built-in temperature sensor that can detect the battery status in real-time to ensure safety.
ATOM 2 has an embedded infrared sensor in the gimbal phone holder, which can actively sense the phone mounting status to prevent the motor from starting before the phone is mounted – helping to avoid motor damage.
The ATOM 2 also includes a dedicated filming app that offers powerful functions for users to enhance their shooting experience like AI recognition and tracking, time-lapse, slow motion, panorama, beauty mode, gesture control, and more.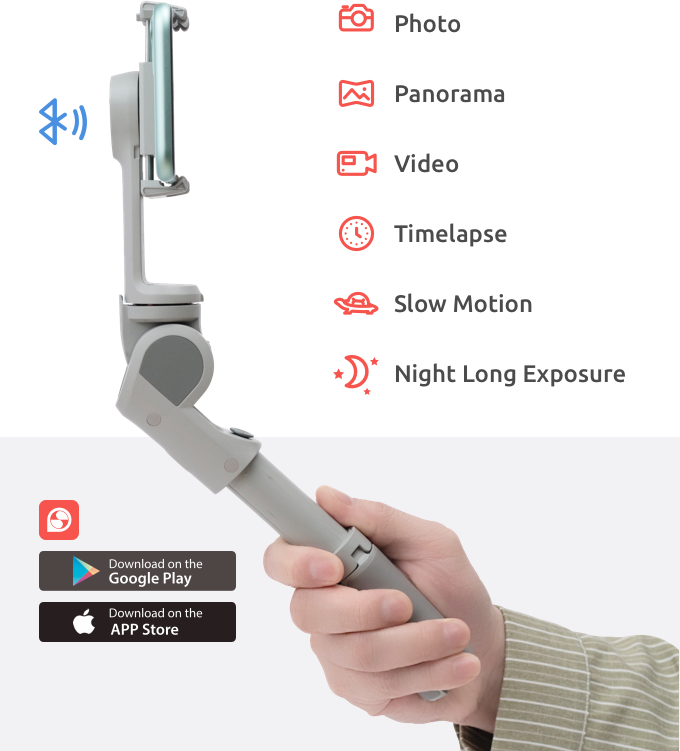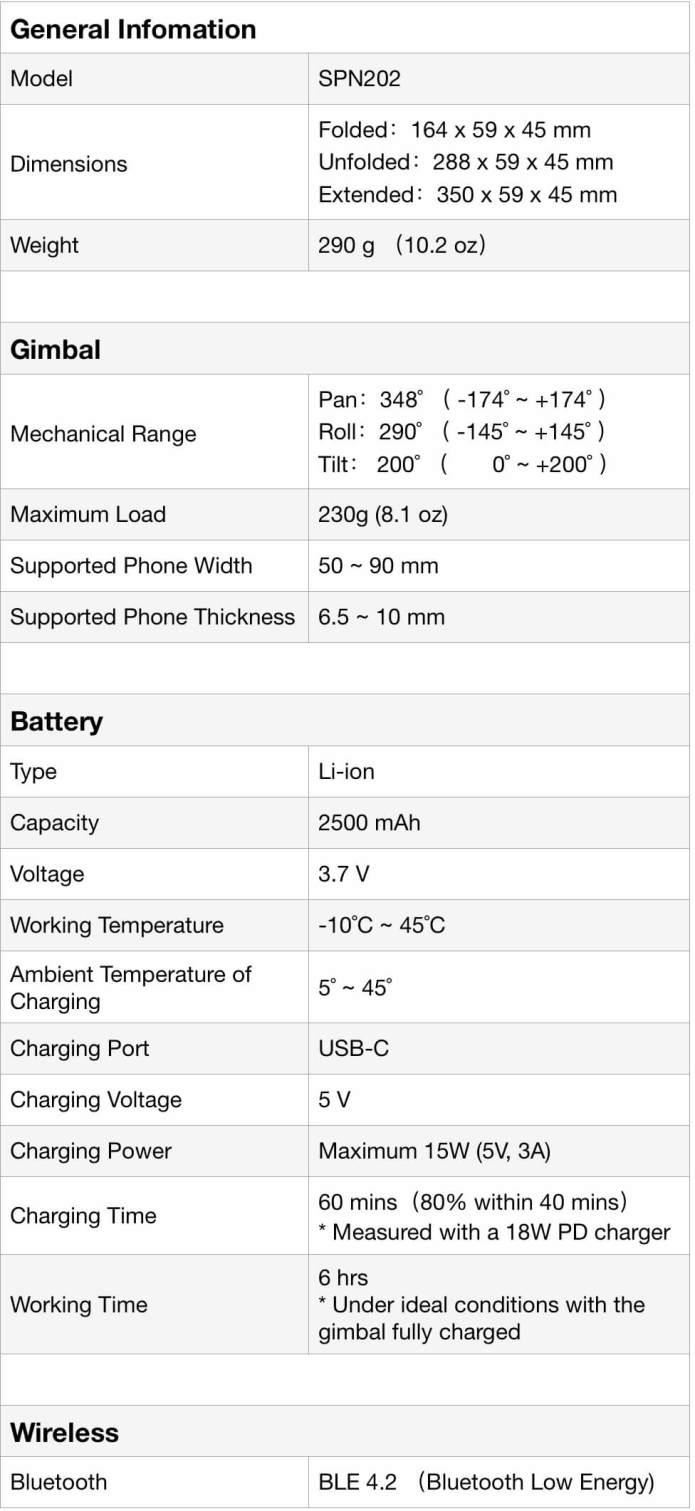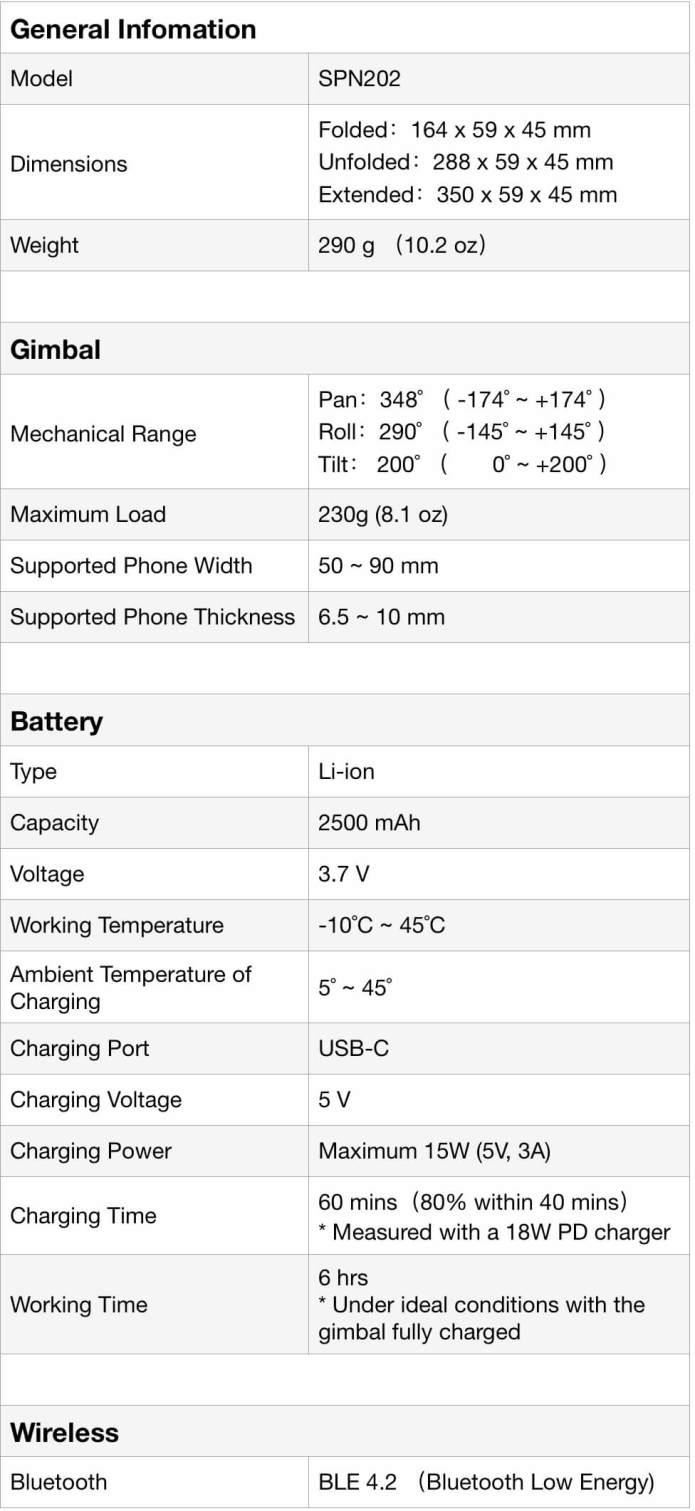 Specifications
of Axes: 3-Axis
Titling Angle: 200°
Configured for: SMARTPHONES
Communication: WIFI
Communication: bluetooth
Communication: Wired
Type: handheld gimbal
Rolling Angle: 290 °
Certification: CE
Panning Angle: 348°
Model Number: ATOM2
Package: Yes
Feature: Following the shooting mode
Feature: Face Recognition
Support Remote Control: Yes
App Setting: Yes
Supported Mobile Device Max Size: 50-90mm
Charging for Mobile Device: Yes
Camera Integration: No
Weight (g): 200g
Size: 164*59*45mm